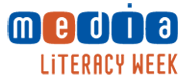 November 5-9, 2012
Media Literacy Week is an annual event that takes place every November. Co-lead by MediaSmarts and the Canadian Teachers' Federation, the week puts a spotlight on the importance of digital and media literacy as a key component in the education of children and young people. This initiative provides Canadians with a focal point for media-related activities and, at the same time, showcases the creative ways that digital and media literacy are being integrated into classrooms and communities across the country.
"Privacy Matters" will be the theme of this year's Media Literacy Week, shining a spotlight on the privacy knowledge and skills that youth need for their online activities.
Here at Safe Online Education Associates our vision is to positively influence this and future generations to be informed and responsible users of digital technology and promotes the safe and responsible use of all forms of digital communications and social media through education that is research-based and pro-technology.
We will take a positive, developmentally – appropriate approach to the information in all presentations, materials and on-line resources
Our work will reflect current research, evolving practices and be research-based.
We will seek to understand and incorporate the perspectives of children and youth concerning their experiences of life online.
We will engage parents, caregivers and professionals to be resources to children and youth in safely and responsibly navigating their online lives.
For more information on SOLOS, our presentations and how we can help your community stay safer online, please visit www.safeonline.ca.
We look forward to hearing from you.
Onwards and upwards!